The Battleground
I visited Mighty Fine and Fuddruckers this month for dinner.   This is a comparison between the two burger chains, one being an international company started in San Antonio, and the other a relatively new player in Austin, Texas.   I judge each joint on five (5) criteria, with each criteria allocated 10 points for a possible perfect score of 50.    1) Price based on a 1/2lb hamburger, 2) Preparation, 3) How the burger is dressed, 4) The side of fries, and 5) Establishment Ambiance and Decor.
The Combatants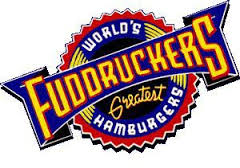 Versus   
Price
Fuddruckers 1/2lb Burger w/Cheese: $5.99
Mighty Fine 1/2lb Burger w/Cheese: $6.19
10 points to Fuddruckers for winning on price, 5 points consolation to Mighty Fine for being competitive on price.
Preparation
Fuddruckers prepares your burger to order.  You want your burger "medium rare" – they'll fix it medium rare for you.   They also use a charbroiler to cook your burger.   The burger is measured to 1/2lb by machine and formed in a mold to guarantee a very nice edge, and an evenly thick burger.   It is served hot and moist with a lightly buttered toasted bun.
Mighty Fine prepares your burger for you – no customization allowed.   It will be either very welll done or well done.   They use a flat griddle cooktop – no charbroiling here.  You'll get it cooked on the stove, covered to melt your cheese.   The pattie is hand-formed, uneven, and irregular in size and form.   It's claim to fame is that it's hand made.
Points to Fuddruckers for a better burger.   10
Points to Mighty Fine for having a burger:     5
Dressed
Mighty Fine will ask you if you want "Red, Yeller, or White" and what would you like on your burger.   They'll customize and ask you what you want to order, and can dress your burger with additional "local" (off-menu) items for an additional charge.    You have to ask.
Fuddruckers has all of the dressings, less the cheese that was melted on your pattie, at a large salad bar area.   You can grab as much or as little as you want – with shredded or whole lettuce, and "red, yeller, or white" to the side.   Fuddruckers will also add additional items to your pattie for an additional charge.
Both joints get a point deducted for using white onions on the condiment selection.  Everybody knows that red onions are salad onions (intended to be eaten raw) and white onions are for sauteed dishes, seasoning, or cooking (ie: onion rings).
Points to Fuddruckers for allowing the customer to decide minus 1 point:  9
Points to Mighty Fine for being dictators of burger dressing, minut 1 point: 4
Side order of Fries
Mighty Fine has thin crinkle-cut french fries freshly made from potatoes grown in Oregon's Malheur County (near Idaho).   They are plentiful – but they are not cooked twice.  They can be greasy.  Some are overly cooked and others not cooked through.    I didn't care for the fries at Mighty Fine Burgers.  Seasoning was not added to the fries.
Fuddruckers also makes their fries from Malheur County potatoes, also cutting them fresh on-site.   Fuddruckers, however, serves real french fries – Steak Fries.   Cut big and wide – these fries were cooked perfectly, not too greasy, plentiful, and crunchy – the sign of being cooked twice.  Nice and big – they were perfect for dipping into a Mayonnaise and Ketchup mixture.   I loved the fries at Fuddruckers.
Points to Fuddruckers for better french fries:  10
Points to Mighty Fine for having french fries on the menu:  5
Ambiance
Mighty Fine is clean and open, with large long tables that would be right at home in a Texas BBQ joint.    No plates – just a bag, with your burgers and fix'ns inside – use the bag or the wrapper for ketchup dipping.   Talk to the family next to you as your sharing the same table.  Apologize to the lady sitting behind you in the uncomfortable folding chair.    The odd thing is a one-way see through glass in the men's bathroom.  Nothing like standing up and taking a whizz – and just on the other side of the glass is a family eating lunch.   Kinda disturbing – but in a funny way.   "OMG, I can't believe I just whizzed and you guys didn't see me."    Also a nice touch are the souvenir plastic cups that you can take home.   They are the same type used by the Oasis, Rudy's and a couple of other local Austin eateries – good marketing, and handy for using as daily cheap glasses for large gathering at home.   The music being played is varied – but of the soft-rock variety.  Lighting is bright,  can be glaring – trying to get the "clean" feel of clean metal or picnic tables outside.
Fuddruckers has traditional seating and is well lit, has upscale tables for four (that can be moved together if needed), large booths, and larger rounded booths for larger groups.     Lighting and colors are subtle.   There is no outside seating.  The music is popular rock music from various eras.
This is a toss-up tie – because there are advantages to both types of seating based upon your "mood" at the time of your visit.    Families will enjoy the open atmosphere at Mighty Fine  – because the expectation bar is set so low.    Couples will enjoy Fuddruckers for a more intimate and conversational friendly atmosphere.
Points to Fuddruckers:   10
Points to Mighty Fine:  10
Winner:  Fuddruckers!
Fuddruckers was the clear winner in this battle of the burger beasts.     Fuddruckers serves a burger that is consistently good, well prepared (to order) while leaving the final dressing of the burger up to the customer.    Mighty Fine got points for showing up – but Mighty Fine is more of a repurposed BBQ joint than a hamburger joint.   If Mighty Fine served BBQ brisket and Elgin Sausage instead of Hamburgers – then it might make sense.   But – that's where the owners and operators of Mighty Fine come from.
For the money you spend, a Fuddruckers burger is much better than a Mighty Fine burger.
And it's more affordable too!   For $2 more, you can get a Buffalo, Venison, Elk, Salmon, Turkey or Ostritch burger instead of beef.   How cool is that?
Fuddruckers:  49
Mighty Fine:   29